Now offered in both steel and aluminum components
A Trex Horizons fence is simple, elegant, and low-maintenance. Innovative interlocking pickets create full privacy and incredible durability. Horizons' horizontal design provides a unique look that enhances any landscape architecture. These horizontal composite fence panels are also resistant to rot and insect damage. Made from 95% recycled materials, Trex horizontal fence panels are not only visually stunning, but also environmentally friendly.
HASSLE FREE
No need for paint or stain. Trex eliminates back-breaking maintenance. Any desired clean up can be managed with soap and water.
WON'T WARP, ROT, OR CRACK
Interlocking pickets apply tension from top to bottom making the Trex Horizons fence rigid and durable. Trex pickets link together and distribute pressure evenly eliminating the bowing, warping, and cracking that is common to other materials over time. It also won't rot and resists insect damage. No more replacing rotted out fence posts.
A GREEN FENCE
Trex fencing is made from 95% recycled materials. Installing a Horizons fence not only saves trees but keeps valuable materials out of landfills. Trex is one of the largest plastic and wood recyclers in the world.
TREX HORIZONS FEATURES
HIGH PERFORMANCE
Engineered to resist insects and mold
Hassle-free maintenance takes the work out of the weekend
PERENNIAL BEAUTY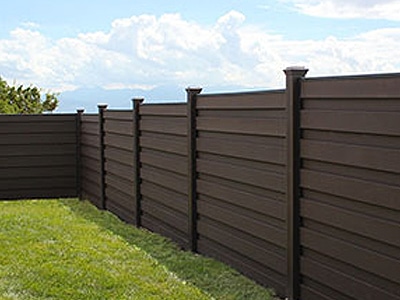 TREX THROUGH AND THROUGH
Made from 95% recycled materials
Backed by limited warranties against material defects
FENCING COLORS